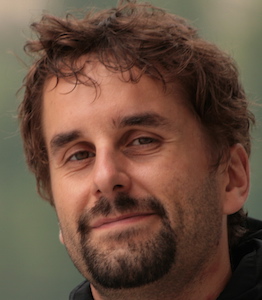 Mauro Nicolao
Past Members, Researchers
I am a research associate at the Department of Computer Science of the University of Sheffield.
My interests concern several aspects of speech analysis and modelling techniques. I am the main researcher in the homeService project of the NST network, which aims to use the state-of-the-art speech technologies to help people with disabilities to function their house (e.g. lamps, television, etc.). I worked in collaboration with ITSLanguage on a Computer Assistive Language Learning (CALL) project to evaluate learner's speech proficiency and help him to improve his production.
I was awarded with a Masters degree in Telecommunication Engineering by University of Padova in 2005.
For the following four years, I joined the Italian National Council of Research (CNR) and I was involved in several projects: a) the development of an expressive speech synthesiser for the Italian language; b) a speech recogniser for Italian children speech; c) a preliminary project to develop a multilingual (Arabic, Italian, English) ASR in collaboration with Expert System Spa.
In 2010, I started to work as early-stage researcher at the University of Sheffield for 3 years funded by the Marie Curie European network SCALE.
During this time, I developed a computational model, named C2H. It consists of a reactive speech synthesiser able mimic the human speech modifications that happen when the communication is affected by environmental disturbance.
More information can be found at my personal website.
Publications
2018
Improved Acoustic Modelling for Automatic Literacy Assessment of Children.

In:

Yegnanarayana, B. (Ed.):

Interspeech 2018, 19th Annual Conference of the International Speech Communication Association, Hyderabad, India, 2-6 September 2018,

pp. 1666–1670,

ISCA,

2018

.
:
2017
Unsupervised crosslingual adaptation of tokenisers for spoken language recognition.

In:

Comput. Speech Lang.,

vol. 46,

pp. 327–342,

2017

.
:
2016
The Sheffield language recognition system in NIST LRE 2015.

In:

Rodríguez-Fuentes, Luis Javier; Lleida, Eduardo (Ed.):

Odyssey 2016: The Speaker and Language Recognition Workshop, Bilbao, Spain, June 21-24, 2016,

pp. 181–187,

ISCA,

2016

.
:
Using phone features to improve dialogue state tracking generalisation to unseen states.

In:

Proceedings of the SIGDIAL 2016 Conference, The 17th Annual Meeting of the Special Interest Group on Discourse and Dialogue, 13-15 September 2016, Los Angeles, CA, USA,

pp. 80–89,

The Association for Computer Linguistics,

2016

.
:
A Framework for Collecting Realistic Recordings of Dysarthric Speech - the homeService Corpus.

In:

Calzolari, Nicoletta; Choukri, Khalid; Declerck, Thierry; Goggi, Sara; Grobelnik, Marko; Maegaard, Bente; Mariani, Joseph; Mazo, Hélène; Moreno, Asunción; Odijk, Jan; Piperidis, Stelios (Ed.):

Proceedings of the Tenth International Conference on Language Resources and Evaluation LREC 2016, Portorož, Slovenia, May 23-28, 2016,

European Language Resources Association (ELRA),

2016

.
:
2015
Speech-Enabled Environmental Control in an AAL setting for people with Speech Disorders: a Case Study

.

In:

IET International Conference on Technologies for Active and Assisted Living, TechAAL 2015,

London, UK,

2015

.
:
Automatic assessment of English learner pronunciation using discriminative classifiers.

In:

2015 IEEE International Conference on Acoustics, Speech and Signal Processing, ICASSP 2015, South Brisbane, Queensland, Australia, April 19-24, 2015,

pp. 5351–5355,

IEEE,

2015

.
:
2013
A phonetic-contrast motivated adaptation to control the degree-of-articulation on Italian HMM-based synthetic voices

.

In:

8th ISCA Workshop on Speech Synthesis,

pp. 127–132,

Barcelona, Spain,

2013

.
:
2012
C2H: A Computational Model of H&H-based Phonetic Contrast in Synthetic Speech

.

In:

Proceedings of 13th Annual Conference of the International Speech Communication Association, INTERSPEECH 2012,

Portland, OR,

2012

.
:
Establishing some principles of human speech production through two-dimensional computational models

.

In:

SAPA-SCALE workshop 2012,

Portland, OR,

2012

.
:
2011
Reactive Speech Synthesis: Actively Managing Phonetic Contrast Along an H&H Continuum

.

In:

Proceedings of the 17th International Congress of Phonetic Sciences, ICPhS 2011,

pp. 1422–1425,

Hong Kong, China,

2011

.
: